Chamberlin + Associates is a full-service asset management company specializing in mid- to large-size apartment communities. Based in Phoenix, Arizona, we work with clients throughout the Southwest including in Arizona, Nevada, New Mexico, Tennessee and Texas.
What sets us apart is our wrap-around service model, which we believe is crucial to our company's decades of success. We're not here to offer short-term solutions but rather to build a lasting partnership built on a foundation of knowledge and trust.
What does wrap-around service mean?
We deliver a full-range of supports and services to our clients including:
Personalized proposals designed around our expertise and your unique needs
Detailed weekly reporting on key performance metrics
Regular audits for potential new income opportunities
State-of-the-art accounting and training systems
An industry-leading team of housing professionals
Preventative and restorative maintenance
On-going tenant retention programs
Interested in receiving a no-obligation, free market analysis to improve your property's bottom line?
Unhappy with your current occupancy rates and number of delinquencies?
Since 1991, Chamberlin + Associates has been helping property owners like you achieve greater profitability and smoother operations. Just look at the some services we offer:

Property analysis and inspection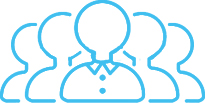 Resident retention programs


Accounting reports and owner communications

Utility recapture programs


Construction Project Management